Dave,John & Kliff photos on this page courtesy of
Digital & Traditional © 2001
Meat the Moose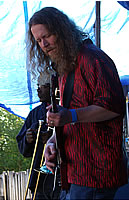 Dave Parks
Growing up in sunny California, it's no wonder Dave plays the California PT Custom Schecter as his main guitar. Cut from the same cloth as Jerry himself, Dave was heavily influenced by the surfer scene, AC/DC and Johnny Cash throughout high school. Dave's current downstairs basement/garage serves as the practice/recording headquarters for Gangly Moose. He wrote the song LEBANON while surfing in Hawaii the day the marine barracks were bombed in 1984.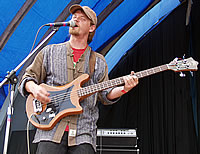 John
Knechtel
John grew up in Chaddas Ford, Pennsylvania. He spent some time in
Colorado, then moved to Lincoln Creek, Alaska in 1992. For the past 14
years he has lived "off the grid" (aka self-powered) and has pursued a lifestyle that emphasizes self-sufficiency. John has played bass, guitar and mandolin for over 20 years and is an accomplished
singer/songwriter.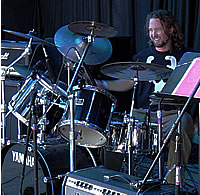 Kliff Hopson
Kliff grew up in the foothills of the Blue Ridge Mountains in Virginia, and was heavily influenced by the bluegrass scene. He has been addicted to drumming since the age of 10. After graduating from college in VA, he played music in Madison, WI for several years. Kliff eventually migrated north to Fairbanks in 1992, joining the MoOsE after Dave and John heard him play at open mics. After performing the song, HOT TUB, with the MoOsE for several years, Kliff finally got the message. He now enjoys many cold, dark, winter, Fairbanks evenings soaking in a wood fired tub in his yard, watching the aurora dance overhead in the sky - and he swears the northern lights dance to a very funky groove.
e-mail Kliff
---
Discology
Northern Town
2005
All Access CD
2004
Gangly Moose
1998
Sitzmark Live 4.20, 1999
Hundreds of bootleg CDs "self-published" by fans
Contact the Band: gangly.moose@gmail.com